By Nathan Adam Spear

Photo by Matthew Mateo

The similarities between Austin and the other metropolises of America grow each year as skyscrapers fill the landscape and more large businesses become our new neighbors in the Texas capital. With Austin's developments also including an accelerating population and frequently mind-numbing traffic, the city has found the need to develop another big city similarity – public transportation.
Due to the sprawling geography of Austin, and subsequently Austin Community College, high-capacity public transportation networks like the New York subways or the London Underground, have so far refrained from being Austin's primary public transit style. Currently, Austin takes the bus.
Since its establishment in 1985, Austin's transit-service, CapMetro, has led the way for Austin's public transportation through its fleet of 358 buses and 83 routes. ACC specifically has nine of its eleven campuses serviced by CapMetro, the two currently excluded being the Hays County and Elgin locations.
ACC students, faculty and staff are even allowed free access to the CapMetro Green Pass as of 2019, providing unlimited use of CapMetro services. Still, according to a transportation survey in 2019 by ACC's office of energy and sustainability, only 7% of respondents had utilized public transport to get to campus.
As a long-time member of ACC's car dependent students, my own experience with public transportation is likely similar to many others – severely lacking.
The car I'm dependent on – a red Chevy Sonic equipped with several strips of duct tape, a broken taillight and an increasingly unbearable noise every time I push the brakes – continues to fight the title of 'efficient' and 'preferable' with every use, making other transit options grow more attractive.
It was the evening of April 6th when I began my first public transit journey aboard the route 20 bus headed toward Capitol Station. Besides being within walking distance to its namesake building, Capitol Station also begins my eight-minute walk to ACC's Rio Grande Campus, the location of my Thursday afternoon American Sign Language class.
My first commute on the bus had a promising start; the recommended stop and route was easily found with the CapMetro app on my phone. Directions to my stops were also on Apple Maps, which has an option for public trip options readily available. My ticket, a local day pass, was also purchased conveniently for $2.50 through the CapMetro app – a temporary expense before I set up the available ACC Green Pass.
Ruby Krimstein, an ACC student and ACCent writer, has experience on the bus that far exceeds my own. Having previously resided in cities like Chicago and New York City which have very developed transportation networks, Krimstein has never owned a personal vehicle or even a driver's license.
"Everyone would say to me 'you need to have a car, you're moving to Austin, this is the time to get your license, this is the time to get a car,'" says Krimstein who, since moving in January, has found these friendly warnings not to be the case.
Splitting her time as an English major between the Highland and Rio Grande campuses, she not only utilizes the bus, but CapMetro's commuter rail – AKA the Red Line – as well. Krimstein says she has found surprisingly few issues getting where she needs to go from her apartment in east Austin, even compared to her previous experience commuting in more mass transit-oriented cities.
"There's an idea of Texas being very 'car-centric', but I think [public transportation] is more efficient than people realize."
The efficiency in Austin has not been without some effort; in 2019, after four phases and two years of brainstorming, city council unanimously passed the Austin Strategic Mobility plan, the first adopted transportation plan since 1995.
This 358-page citywide plan of action aims to decrease the 76% of the city's drivers that take a car independently to work down to a bold 50% by the year 2039, with transit ridership increasing to 16%. The reason being to handle the predicted traffic congestion as a result of population increase as well as lower the city's carbon emissions.
"We are trying to reduce our consumption, there are lots of ways to do it, but transportation has the biggest impact," says Lonny Stern, public involvement manager for the Austin Transit Partnership, "Choosing to share your trip, even just carpooling, that's a 50% reduction right there."
Commuter delay, affordability, travel choice and safety were found to be the primary concerns of the focus group formed by city officials before drafting the ASMP.
Affordability isn't an issue as an ACC student, but Krimstein is well aware of the occasional delay and feeling of discomfort experienced while using the city's public transportation. Most especially, though, she finds issue in a "lack of autonomy" from relying on public transit.
On the CapMetro Red Line, that she uses frequently to access the Highland campus due to its "cleaner" environment, Krimstein says missing a train can sometimes lead to hour-long waits for the next.
With the bus's varying service times and limited travel distance, she says some freedom is lost without owning a car. Often, events that are on a far side of the city or in a different one altogether are practically unreachable when depending on public transportation.
As for my own maiden bus trip, I fortunately arrived at my stop on time with the bus arriving shortly after to pick me up at the scheduled 5:00; However, frequent stops and a minor delay (after the driver answered a phone call and stepped off for a few minutes) made the future of getting to my 5:30 ASL class on time grow unlikely.
With all this stress for an otherwise roughly 15 minute car ride, I wondered what might make daily-use of these services, when other options are available, appealing.
"I've found it's a good way to see the city," says Krimstein, "It's like an effortful journey which can be fulfilling."
With that I can agree; getting to spend time outside in the community, with my eyes off the road and on the view around me, I find myself feeling unexpectedly content with my place in life and society. As Krimstein says, public transport isn't so isolated compared to driving independently.
I was nearly finished practicing, 'Sorry, I'm late', in sign language when the bus came to its hissing stop at Capitol Station. My relaxing city walk turned into a sweaty urban jog, but I arrived at class on time, slightly damp, but on time.
It was 2020, when voters not only addressed improving the efficiency of its transportation by funding the Transit Enhancement Program, but also approved the planning for a different type of transportation entirely through funding Project Connect.
Project Connect, supported by a portion of the city's property tax revenue and run by the Austin Transit Partnership, is primarily focused on the construction of a new citywide light-rail system. The light rail, named for its smaller size, boasts high-speeds with frequent arrival times.
Focused on implementing the light rail without displacing low-income communities, ATP was formed to lead the program and works along CapMetro's and the city's ETOD or, Equitable Transit-Oriented Development, strategies as well.
Initially, Project Connect planned 28 miles of accessible light rail throughout the city and presented these plans in early 2020; But after necessary changes to the rail's design had accompanied the city's accelerated cost of living, the original $5 billion cost estimate was doubled, and the vision was replanned.
"In a way, we were building our dream home," says Stern who, I discovered later, is a local realtor. "But now we know we need to start with a starter home and add on to it."
Stern has been conducting community outreach for ATP since the light rail's open house in March. Along his quest for public input and as part of ACC's Earth week, he presented five options for the first phase of Project Connect's construction at the ACC Riverside Campus.
The presentation was scheduled to include an electric vehicle demonstration, but the weather had other plans according to Amber Orr, the ACC energy and sustainability manager.
Stern assures that the five more affordable options he presented are just for phase one of the long spanning project, and that the plans promised in 2020 have not ceased entirely, just slowed considerably. For Stern and ATP this brings the issue of finding routes to service first.
"Some people may look at this and say, I want to go as far as possible, pick the cheapest branch, let's do that, and there are other folks who are more specifically concerned about where we are serving," says Stern.
Focused on implementing the light rail without displacing low-income communities, ATP works along the city and CapMetro's ETOD or, Equitable Transit-Oriented Development, strategies as well.
Each of the five options, which fit into a more conservative budget, presented a portion of the original light rail system. The underground and elevated lines that were promised initially were only offered in the shortest of the five lines due to the unexpectedly high production costs of specialized rail.
ATP's outreach to ACC's Riverside location was because one of the presented tracks did not reach far enough to service the campus efficiently; The northernmost reaching option, starting from North Lamar, only went as southeast as Pleasant Valley, whereas the others continued southeast to Yellow Jacket or, in one, all the way to the airport.
With troubles even arising at this year's legislative session, in the form of House Bill 3899, it seems Austin's light rail future is still some time away with speed having only increased semi-recently. After the the bill lost steam and the comment period ended May 2nd, it was less than a month later when ATP announced its agreed first phase of development.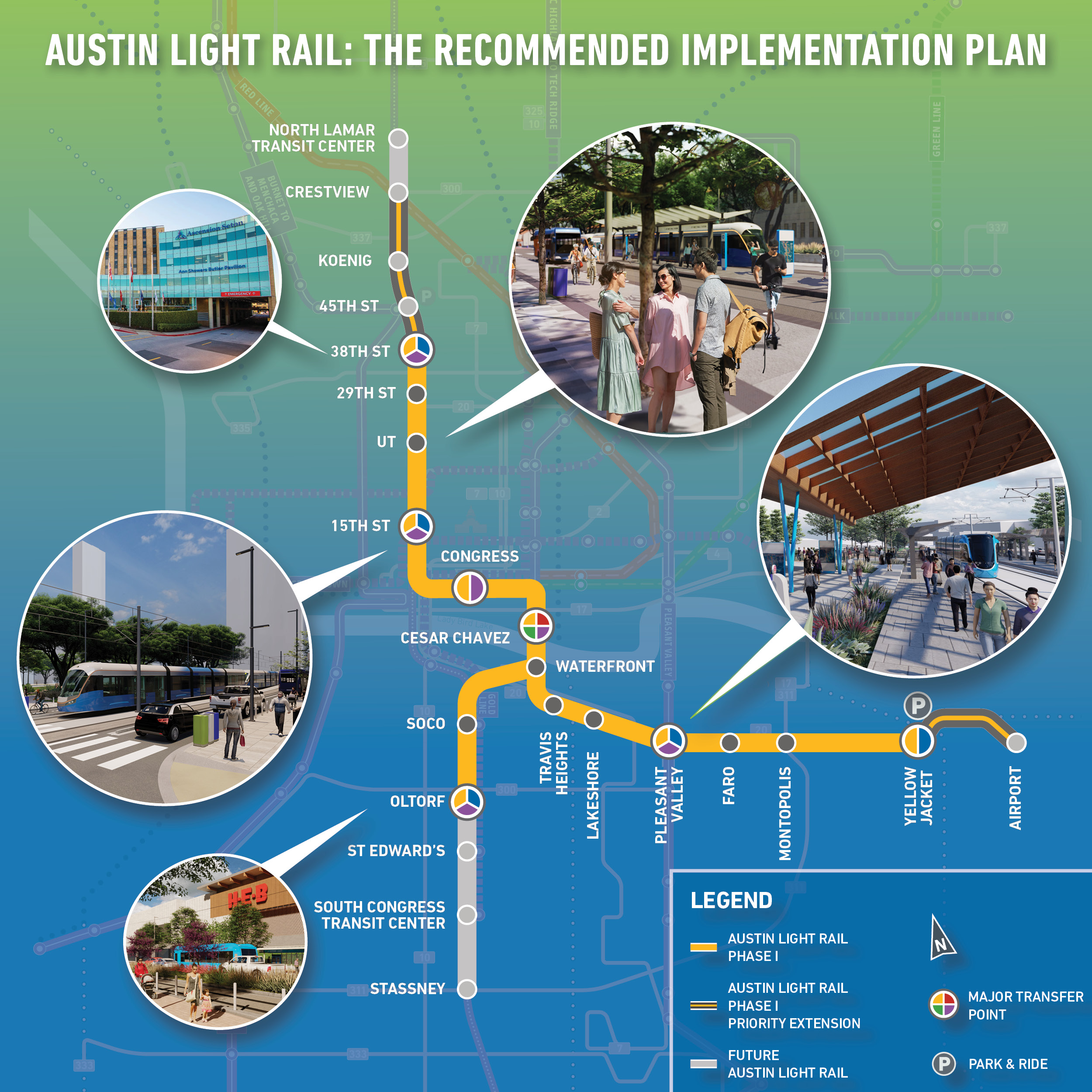 Most notably, the approved $4.5 billion plan will begin from 38th street down to Yellow Jacket, with a "priority extension" connecting Crestview up north as and from Yellow Jacket directly to the airport.
Last Friday, CapMetro's Twitter announced that the CapMetro board unanimously approved the adjustments, putting Project Connect finally on the road, or rail, to construction.
Even with this decision being a big step towards the optimistic plans that we were shown in 2020, construction for this first phase will likely not feel much quicker; and several public comment periods can be expected in the meantime.
After acquainting myself with the city's current transportation options and some of its riders, though a fulfilling experience, it does still have room for improvement with limited distances and varying delays. Austin's Transit Enhancement Program, voter funded in 2020, provides a place for those of us using the bus to be heard while we wait further for Austin's transit future.